Modular Cleanroom Products
Solutions for Cannabis Cultivation
Drawing on our decades of experience in developing cleanroom systems used within the food, medical and pharmaceutical industries, our systems are ideal for maintaining strict environmental control - over temperature, humidity and air quality - while offering a high rate of cleanability.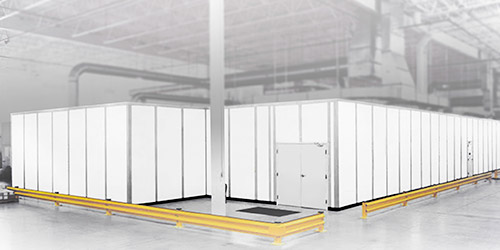 Bigger, Taller and Stronger
PortaFab has earned a reputation in the industry for engineering and manufacturing some of the strongest modular building systems on the market. Simply put, our CleanLine wall systems allow us to build bigger, stronger and taller interior rooms reaching longer spans without the use of support columns. Plus, the load-bearing framing system can be designed to support the lighting, filtration and other mechanical equipment without having to tie into the existing structure for support.

We offer a variety of wall systems that provide flexible and economical solutions to the various environmental (temperature, humidity and air quality) control requirements required in the cannabis production industry. Learn more about our walls and framing options.

From wall panels developed specifically for cannabis grow rooms to custom-made composite panels for unique applications, our wall panel production and fabrication capabilities allow us to economically meet the varying needs for all areas of your facility. Learn more about wall panel options.

PortaFab offers various roof options to complete your design in the most cost effective manner while meeting your environmental control goals and load-bearing requirements. Learn more about our roof options.

To help display your operation or enhance certain work areas, we manufacture multiple cleanroom window styles that integrate seamlessly with our modular wall and ceiling systems. Learn more about our window options.

Our modular cleanroom systems can be designed with a variety of door types to help maintain environmental control without sacrificing productivity. Learn more about our door options.

Our pre-engineered systems allow for the seamless integration of critical air filtration, lighting and electrical components as well as access control systems that enhance the functionality of space or more effectively allow you to meet the requirements of a specific application. Learn more.