Doors
Improve Control & Efficiency
The perpetual harvesting process requires the extensive movement of plants throughout a facility and PortaFab's building systems can be designed to seamlessly integrate a variety of door types to help maintain environmental control without sacrificing productivity.
Single Doors
Our standard single cleanroom doors are precision manufactured and available in unlimited surfaces including steel, fiberglass, aluminum, and stainless steel. Plus, they can be outfitted with a variety of options including vision panels, hardware, activation, locking mechanisms and fire ratings.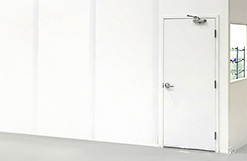 Double Doors
Featuring the same durable construction and options as our single doors, double doors allow for the easier movement of plants, equipment and personnel throughout a facility.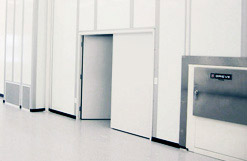 High Speed Roll Up Doors
With sizes that extend up to 18' x 18', high speed roll up doors are designed to open and close very quickly to reduce the time the cleanroom interior is exposed.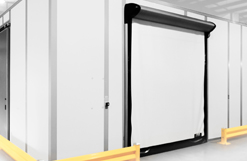 Sliding Doors
Sliding doors easily integrate into our wall systems and are available in any size with a variety of hardware available including push button entries, motion sensors, and non-outgassing seals.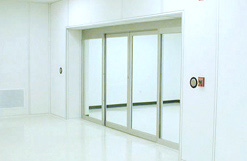 Specialty Doors
We also have the ability to integrate a wide variety of specialty doors into our modular systems.