Integrated Components
Seamless Integration Enhances Functionality
Our pre-engineered systems allow for the seamless integration of a variety of components in order to enhance the functional space or more effectively meet the requirements of a specific application.

Coving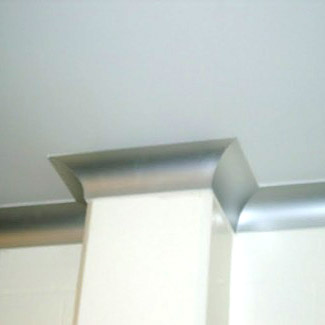 One key to maintaining ultra-clean facilities that comply with the most stringent standards for cleanliness is to eliminate corners.
Coving options are available to improve cleanliness and reduce contaminant buildup.
Coving can be added at intersection of wall and floor, or wall and roof/ceiling.

Lights
From High Intensity Discharge (HID) grow lights to LED's, lighting is critical to nearly every room in a cannabis production facility. That is why we designed self-supporting roof structures that can accommodate all types of light fixtures.

Air Filtration
PortaFab's systems are designed to integrate seamlessly with all types of air filtration systems or can be designed as complete single pass or recirculating air cleanrooms.
Carbon and ozone filters for enhanced odor control.
HEPA filters for improved air quality.

MEP (Mechanical, Electrical, Plumbing)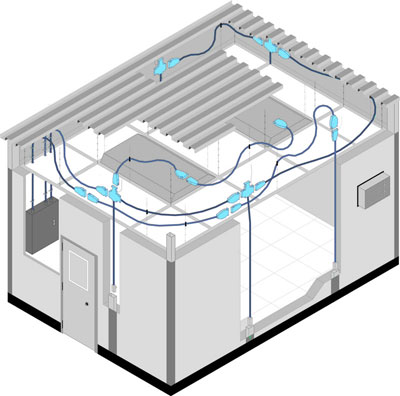 PortaFab can assist with the design of your mechanical systems to help you achieve temperature, humidity and particulate control requirements.
Optional load-bearing roofs can support HVAC, air filtration and lighting systems.
Ability to integrate "big electrical wires" into wall systems for a flush and seamless result.
Wiring raceways every 4 feet– allow for easy integration of electrical inside of the wall.
Flexible systems accommodate a variety of irrigation systems: manual or automated, top or bottom watering, ebb and flow, nutrient film, deep water culture, aeroponics, wicking, and smart valve pots.

Security
Monitoring and limiting access to certain areas is often a key element in the design of a cannabis facility to minimize loss and ensure compliance with cGMP guidelines.
Various access control systems including retinal scanners, thumbprint scanners and key card scanners can all be integrated into our wall systems.